Hello Everyone!
It has been about 1 week since I posted.  But I am back and school has ended.  Yay!  This post is going to be on Curlformers.  These are the  most awesome styling tool that anyone could have come up with.  A lot of people still have not heard of them but now you will know.
Curlformers are great for transitioners, but even if you are a natural looking for a new style or if you have relaxed hair and just want a new style Curlformers are for you.  I found out about Curlformers in my research prior to deciding to go natural.   Curlformers are curlers that do not require heat to form their curl pattern.
This is what they look like.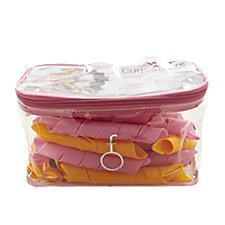 They can create a spiral curl that can be pulled apart or left in tact to fall over a period of days.  The best thing about Curlformers is that they do not require heat.  As for me, I do have to sit under a dryer (indirect heat) for about 15-30 minutes because my hair is very thick and takes some time to dry.  Now I will say that there are two negatives to Curlformers.
First, they are expensive.  However, remember this is an investment that you are making.  If you decide to make the purchase buy the kit.  I say this because the kit comes with a lot of Curlformers, enough for you to style your hair is like mine, thick!  I use about You can use these tools whether you continue to be a natural, transition, or have permed hair.  They are very durable and maintain their shape no matter what.  If they shape becomes deformed, just stretch them out and they coil back up.  The mesh used also can take a little tug and pull.  Another negative is that they can be uncomfortable if you sleep in them.  It is doable but not my favorite part of using them.
The end result is a head full of beautiful curls or coils that you can wear for about 3-4 days, depending on how you maintain your hair.  If you would like to see other reviews on Curlformers check out these great Vloggers.  Naptural85, Meechy Monroe, AND CharJay.  All of these ladies are on YouTube and I love each and every one of them, they are awesone.  I will do a Curlformers video very soon so that you are able to determine if you should purchase them.  Also, if you have a Curlformer story or video let me know so that we can post it to the blog.